Clef and Umi under Attack
Source: OVA
Layers: 4
Sketches: 1
Cel Number: A13e B9e C1
Standard size

Key Cel
End Cel
Original Matching Background

Added 11/15/2010
Updated 6/19/2013

Midway in the second episode, Ascot finds the Starbucks Coffee Shop where Clef and Umi are holed up and uses his toxic Scrubbing Bubbles attack to flush them out. Umi is a little set back, but Clef, now invigorated by his venti latte with the two extra expresso shots, does not seem at all phased by the attack. Sequence numbers: A13e (Umi), B9e (Clef), C1 (Clef mouth layer), B9e kabuse (corrects the color of his shoulder belt on the left).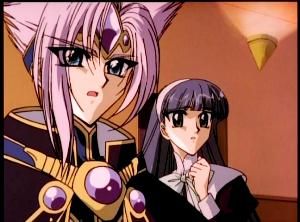 This master set-up, the first I've obtained from the OVA, has a number of interesting features. The Clef layer has experienced normal line fading, especially in the details of the jeweled belt around his shoulders. The kabuse, however, includes a second set of trace lines in a strip about two inches wide, which has the effect of strengthening the lines from about the level of Clef's nose down to the top of the breast jewel. If you look closely, you can see where they leave off at the top and bottom. Click the thumb to see the set-up without this kabuse layer.

The second thumb shows the copy layout that came with this set-up.

Kamidake cels has the A2/B2 combination from this cut and there is another set from this scene in Keys' Little Anime Cel Gallery.

Minor spoiler: Not to worry. Clef is about to teleport them both over to another public building that it would be cool to see destroyed, leaving behind some little girl with a bird-headed wand and an winged orange plushie to mop up Ascot's Bubbles attack.


Click to open in new window