Ep. 12: Karada-chan at the Wishing Stone Shrine
Source: TV
Layers: 1
Sketches: 3
Cel Number: A1 END
Standard size
Opening Cel

No Background

Added 11/14/2010
Updated 6/18/2018

Episode 12: ここにいること (Koko ni iru koto), "To Be Here," cut 5. The final episode begins with a flashback, as Shōko remembers meeting Karada for the first time, as she is praying at the shrine. Seeing the unfamiliar adult, Karada turns, and with this impish smile she explains that she has to keep her wish a secret. "Her eyes betrayed not a trace of doubt," Shōko remembers in a voice-over.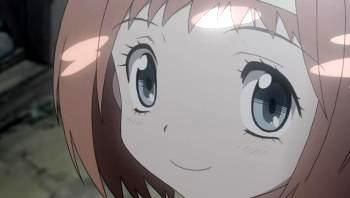 This is a crucial moment, for throughout the series Shōko has maintained that she did not want to turn into a little girl. This makes poor grown-up Karada feel guilty, thinking that her wish was a selfish one that has brought trouble on her new friend and on her "onii-chan."

But as Shōko begins to understand that she too had wanted to relive her frustrating life, she realizes that their two wishes really were mirror images of each other. And now, she's mature enough (thanks to her second childhood!) to realize this.

I've featured the rough sketch above, including the layout and genga in the thumbnails. The A1 END douga, not imaged, is nearly identical to the genga.




Caution! Fussy Notes

The final episode was, like Ep. 10, a joint effort by several artists who were credited as episode animation directors. The chief animation director, as with the other even-numbered episodes, was Shinya Hasegawa, who probably did all the shuusei sketches done on light-green paper. The episode animation direction was credited to Masahiro Fujii (also Ep. 7), Ryoichi Oki (also Eps. 1, 3, 8, and 10), Mitsuharu Kajitani (also ep. 10), and Hasegawa himself. So the job of attributing the roughs could be as difficult as for Ep. 10, except for one telling detail.

Masahiro Fujii had a habit of jotting "Yoroshiku onegaishimasu" (roughly, "I hope you like my work") on one of the roughs he sent to his senior AD for review. This greeting shows up on many of the Ep. 7 sketches (for which Fujii was the sole episode animation director), and now we find it written on many of the Episode 12 sketches too. The rough sketch featured above, in fact, has the salutation written twice, in the notes to the left of Karada-chan's face.

This suggests that Fujii was the lead animator for this episode, though for some reason (possibly a pressing deadline) meant that the others had to take on some of the episode's cuts.

The longish cut was made a little more dynamic by having little ovals of sunlight, filtered by the trees above, dance around on Karada's hair. This complicated little maneuver required five more B-level gengas and (in an amazing little decision of excess) fully twenty B-level dougas.

The set also came with a copy art board of the entrance to the shrine that had been used before in Episode 1, cuts 10, 12, and 274 (the transformation scene). That too was largesse, as Karada's round face pretty much takes up the whole frame. I've scanned and included that as a thumbnail to my copy layout from the Prologue.


Click to open in new window