Shōko-chan walking with Kotomi: A1
Source: TV
Layers: 2
Sketches: 4
Cel Number: A1 B1
Oversize, 12.5W x 13H

No Background

Added 11/14/2010
Updated 2/14/2014

Cut 106. After arriving at the seaside resort, Shōko goes to the bed and breakfast where Karada is working, but finds that she has gone to her favorite place to be by herself. Kotomi, who's staying there as well, offers to take her there, and as they walk along, they have a conversation that makes Shōko more and more nervous.

"It's interesting how grown-up you were talking a moment ago," she says to Shōko. "Karada once told me that she had changed ages with an older woman," Kotomi continues, as the little girl with the big spectacles cycles through a series of amusing expressions.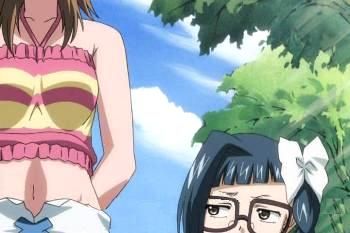 Caution! Fussy Notes

This sketch set included some of the biggest gengas and dougas I've seen outside of A Tree of Palme. The gengas went up to 290 (w) x 330 (h), and the dougas were bigger still: mostly 320 x 320 square with a few extending up to 335 high. That's 12½ to 13 inches in Western measurements. As the cut pans down to Shōko's face very slowly, it's nice to be able to give the images of her their fair exposure.

The set included the full complement of animation stages, including:


five layouts (the most complete one is included as the first thumbnail),

four roughs on light salmon paper (the A1 image of Shōko is the second thumbnail),

eleven gengas (the featured image digitally combines the A1 and B1 images, and

an amazing set of fifty-three dougas, which include separate layers for both characters, plus individually moving layers for Shōko's eyes, mouth, and right arm, and even one for Kotomi's unusually expressive belly button.

The roughs are the work of Masahiro Fujii, as shown by his customary "Yoroshiku onegaishimasu" written above Shōko's head. The animator (or perhaps his supervisor Shinya Hasegawa) must have been unusually happy about this sketch (it is indeed a very fine image of this character) as the amusing little smiley-face below indicates:






Click to open in new window