Angelic Layer: Misaki meets Wizard
Source: TV
Layers: 2
Sketches: 3
Cel Number: A1, B1
Standard size

No Background

Added 9/1/2010
Updated 5/7/2017

Episode 3: Who Are You? Misaki's Heart-Pounding Lesson, cut 215. This scene comes shortly after the eyecatch, when Misaki's practice session with her angel Hikaru is suddenly interrupted by a stranger. Without comment, he places his angel into the ring, and Hikaru nervously thinks she's being challenged to a match. In this cut,she's both fascinated and a little intimidated by the confidence projected by the new angel, the first male one she's seen.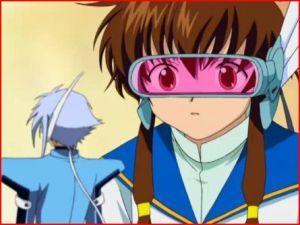 Featured above is the nice rough showing both characters. The thumbnails add the A1 genga of Misaki alone, and a digitally modified image pasting in the B1 layer with Wizard.

Misaki's nervousness is justified: the stranger is Ohjiro Mihara, the regional Angelic Layer champion and younger step-brother of the creepy puppet-master Icchan-san. His angel, Wizard, whom we see in the foreground, is one of the most adept and challenging opponents Misaki will face in later episodes.

But in this first encounter, Ohjiro has no intentions of dueling with the newbie. In the next cut, he switches on a boom box and Wizard begins dancing energetically. Misaki, much relieved, quickly starts Hikaru dancing too. And so the tense situation turns into an enjoyable joint practice session, with the quick-witted girl learning to copy the more experienced Deus's disco moves.




SENSEI CHECK!

A quick check at the credits, shows the haste with which BONES (the supervising animation studio) worked, as the sketching and CGI work were outsourced to a long list of supporting studios. Genga for this episode alone came from at least seven different places, by my count.

The animation director for this episode was Naoko Nakamoto [中本 尚子], whose job in pulling together the work from these far-flung artists must have been monumental. The rough featured above is probably from this artist's hand.

Nakamoto has continued to be active in the animation world, contributing key animation or episode direction to a wide variety of more recent CGI series, including D. Gray-man, Death Note, Fullmetal Alchemist, Ouran High School Host Club, Speed Grapher, and (yes...) the hentai OVA Usagi-chan de Cue!! Her most high-context credit to date has been character design for Shrine of the Morning Mist.

I'd looked at art from this series for a long time without finding anything I wanted. But this dramatic A1 END image of Misaki, which lingers on the screen for a full 4½ seconds according to the timing sheet, was the first one that I really needed to own. Discovering I'd picked up Wizard too (even if seen from the back) was a bonus.


Click to open in new window