Hina-ichigo sees what she's done to Tomoe: rough and genga
Source: TV
Layers: 1
Sketches: 3
Cel Number: A1 END
Standard size

No Background

Added 9/1/2010
Updated 6/29/2019

Episode 2: "Hinaichigo" (雛苺 Kleine Beere), cut 263. Hina, the most childlike and immature of the Maidens, abducts her human medium, Tomoe, into a behind-the-looking-glass world, and Shinku comes to rescue her. After a series of clashes, Hina seems to gain the upper hand in the contest, when suddenly her magic dwindles before her eyes.

Shinku tells her to look behind her, and she sees with horror that her human medium, Tomoe, has collapsed because the doll has drawn too much of her life spirit from her during the battle. Now she realizes how close she has come to killing the companion she'd hoped would be her playmate in her world forever.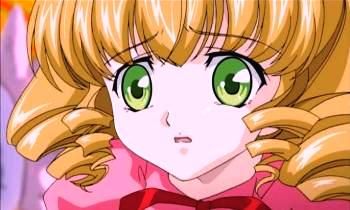 The A1 genga is featured above, but don't miss the very pretty rough sketch, likely by the episode's animation director, Kimiko Tamai, along with the already impressive layout, in the two thumbnails. Move ahead a step to see the reanimated dougas for this simple but effective cut.




SENSEI CHECK!

Kimiko Tamai [玉井 公子], animation director for this episode, also handled the same task for Episodes 6 and 11. Her work is elegant with strong emotion and careful attention to details, making her one of my favorite animation directors for this series. She had a brief but distinguished career in anime, beginning as a key animator for cel-based series such as The Legend of the Galactic Heroes (6 episodes) and Cardcaptor Sakura (4 episodes), then moving up to episode animation director.

In addition to her work on Rozen Maiden, she also directed the animation for Ep. 5 of Spice & Wolf. This genga shuusei from that series is probably also her work. She gained more exposure as animation director for episodes in dark, psychologically intense series like Chaos;HEAd (2008) and Needless (2009), but with the latter series her work in anime production came to an abrupt end. A shame, as her work strikes me as being among the best in the business and a definite asset to the superb art of this series.


Click to open in new window