Suigintou Beats a Strategic Retreat
Source: TV
Layers: 1
Sketches: 3
Cel Number: A1, Aイ, Aロ
Standard size

No Background

Added 9/1/2010
Updated 1/25/2016

Cut 75. With their protective spirits restored, Suiseiseki and Souseiseki mount a fierce attack on their enemy, at the climax of which they manage to cut off half of her crow-feather cape, the seat of her vast power. Suigintou, however, retains enough charisma to cast the severed part at them, blasting them flat. With what remains of her power, she could easily finish the two (and Hina-ichigo, who is supporting them as she can).

But instead she pauses, visibly shaken by the hit she has taken. Then, she mutters, "That leaves Shinku..." and she floats off to deal with her injured but much more dangerous opponent.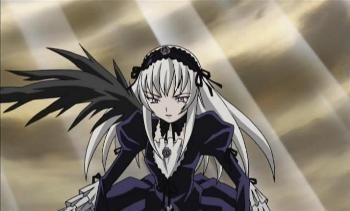 I've featured the A1 genga above, as fine a piece of draftsmanship as I've seen from an animation studio. See how detailed Suigintou's costume is, with its complicated bodiced blouse and ruffled sleeves. Both roses, the one on her bodice and the one on her laced bonnet, are realized petal by petal. The detail holds up even looking at the sketch through an 8X loupe.

In the thumbnails, I've added two planned in-betweeners, the Aイ[A-I] and the Aロ [A-Ro] gengas. The first shows the "brace" moment the precedes Suigintou's glide backward: the animators know that even magical beings in a dream world should appear to obey the laws of physics, and so the move starts with the doll seeming to "kick off" from some base that gives her a little resistance. The second shows her gliding back, her left foot extended a little. While in most series, in-betweener gengas tend to be much more preliminary, as they are guides for the douga artist, in this case the two sketches are fully as elaborate and finished as the A1.

I didn't get any more gengas, but if you move ahead one item, you'll see the full set of dougas reanimated.




SENSEI CHECK!

Actually, as we soon see, Suigintou's real target is her enemy's pesky medium Jun, whom she plans to overwhelm with the demoralizing memories that are everywhere in the world projected by his diseased mind. But while she is the stuff as bad dreams are made on, as Shakespeare might observe, she forgets that right now she is not a character in a story of her own making, but playing a guest role in Jun's nightmare.

And Jun is learning to dream scarier dreams.


Click to open in new window