Karada Finds Tetsu
Source: TV
Layers: 1
Sketches: 3
Cel Number: A1 END
Standard size

No Background

Added 8/31/2010
Updated 11/14/2014

Episode 10, cut 215. In the end, Karada comes around the bend and finds to her horror that poor Tetsu has not only gotten himself thoroughly soaked, but has also slipped and fallen on the slick path. Now he's hurt his knee (and he's gotten his bike good and muddy too, the goddess Skuld might note.) Featured above is the A1 END genga, which nicely captures Karada's frightened gasp.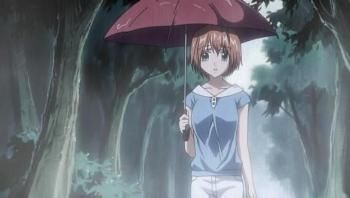 This simple cut, consisting of a single tome image, came with an interesting set of sketches. It is interesting to see that Karada's frightened gasp developed only slowly through the artistic process. The storyboard, included in the first thumb, shows her standing at the top of the little hill looking at the disabled Tetsu with a surprisingly impassive look. "That klutz!" she seems to be thinking in her Skuldian way, "and I bet he's screwed up his bike too!"

The second thumb shows the rough, which shifts her expression more toward a wistful melancholy. "Oh what a shame!" she now seems to be thinking, "and now all his clothes will have to go into the washer!"

Someone added a little genzu sketch at this point with a long note.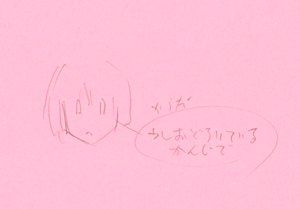 This indicates that Karada needs to be properly terror-struck: "OMG – he's gone and killed himself!"

Those pink genzu with the odd box-shaped eyes show up frequently in the other sketch sets that I got from this episode, showing that this supervisor took an active role in getting the mood of these scenes just right. As similar pink sketches show up in sets from Episode 1, the artist must be Daisuke Takashima, who directed both episodes.

In any case, a partial shuusei rough on light-green paper (likely by senior AD Hasegawa, not imaged) set this detail right, leading to the effective genga featured above.


Click to open in new window