Hiro and Shōko-chan on the train
Source: TV
Layers: 1
Sketches: 1
Cel Number: A1 C1
Standard size

No Background

Added 7/12/2010
Updated 2/8/2014

Episode 12: cut 20. This long but simple cut shows the two talking on the train that will take them from their small town to the seaside resort where the intrepid Karada has found a job as a domestic. Here Shōko is explaining to Hiro that their romantic jitters were unfounded: Karada really loves her classmate, the rather mature-looking middle-school boy Tetsu.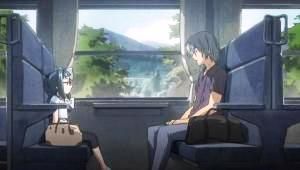 Caution! Fussy Notes

This minor cut evidently was handled by one of the junior animators, as the roughs are very crude (little more than oval "talking heads). Nevertheless, as it was a complicated little scene with lots of moving parts, it required a fairly thick sketch pack:


two blown-up images from the storyboard mounted on layout stock

three partial roughs, all on light-green paper

nine gengas: three of Shōko and Hiro, one of their bags, three of mouth layers (as the characters move during the cut, they needed to be positioned differently) and two for the shadows under their seats

twenty-four dougas: all partials, the characters, their mouth layers, and the bags.