Nori Arriving Home
Source: TV
Layers: 1
Sketches: 1
Cel Number: A6
Standard size

No Background

Added 5/25/2010
Updated 1/8/2018

Ep. 1: "Bara Otome" (薔薇乙女 Fräulein Rose), cut 96. This simple image shows Nori, Jun's sister, at the beginning of the first episode, arriving home from school and looking around. She's a little relieved that the hall is not filled with newly arrived packages, which her obsessive brother has been ordering off the Internet, then returning for the refund.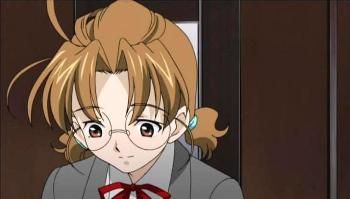 Office F&O painted a rilezu from this cut, though not this particular key image.

Nori is a surprisingly ingratiating character in this series. In some ways she resembles one common meaning of her name, as she can be "seaweed-limp" in dealing with her difficult and self-centered brother. Yet she is also remarkably adaptable and holds the household together. She responds to the arrival of the Maidens with remarkable equanimity, accepting their quirky demands and learning what pleases them.

And at the end of the first story arc, she responds to the final challenge with remarkable spunk. Facing her demoralized and now potentially suicidal brother in the dark night of his soul, she propels him out of his funk with what always impresses me as a totally unexpected, yet absolutely right action. (Nooo, I won't tell you what it is: go watch Episode 11 and you'll see.)

She can function as the typical ditzy sidekick, and yet it's worth remembering that norikiru means "to overcome, prevail, weather (a crisis)." And that she certainly does.