En Garde! Suiseiseki in Attack Mode
Source: TV
Layers: 1
No sketches available
Cel Number: A4
Standard size

No Background

Added 5/5/2010
Updated 1/8/2018

Episode: 5 – Kaidan: Die Treppe [The Staircase], cut 209. In this surprisingly farcical episode, Suiseiseki maliciously swipes the strawberry off Hina-ichigo's piece of daifuku, then tries to make everyone believe that she had eaten it herself.

Hina, the most baby-like of the magical dolls, is outraged and shuts herself up in Jun's room in protest. Interestingly, Jun who supposedly hates little kids, listens to Hina and agrees to take her side.

A household battle develops, during which the two sides annoy each other with petty pranks. Here Jun is making an irritating noise by rubbing pieces of Styrofoam together and Sui is trying to drown it out by banging on a frying pan as hard as she can.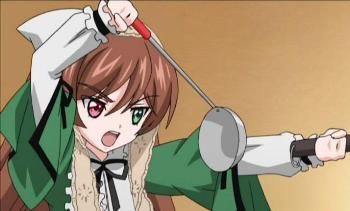 Well, as silly as the situation is, you have to admit that it's an extraordinary piece of artwork, full of dynamic angles and fine costume and object details. Suiseiseki's fury really comes across in this fiery image.

Office F&O, the studio that made rilezu from selected cuts from this series, sold a repro cel that matches this exact key image. This suggests that this genga, and others coming on the market around the same time, were part of the artistic materials given by NOMAD to this concern.

Why is the episode called "The Staircase"? Well, the battle sets up with Jun and Hina at the top of the stairs and Suiseiseki and the not-very-interested Shinku at the bottom. Both sides try to get the other to come up (and make Jun and Hina stop what they're doing) or come down (and concede the battle).

And, as the affair keeps getting more and more elaborate as it goes, the plot itself is like an escalator.