Jun Rescuing a Badly Hurt Shinku
Source: TV
Layers: 1
No sketches available
Cel Number: A2
Standard size

No Background

Added 5/4/2010
Updated 1/25/2016

Meanwhile Jun carries the wounded doll to a safe place.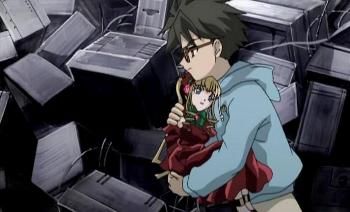 This genga is part of a short bank showing Jun racing through a dreamscape of junked computers (a world projected by his own troubled mind), a visibly shattered Shinku in his arms.

This scene is one of the well-conceived, intense moments of this series: for all their human aspirations, the dolls are no more than fancy stuffed toys made to mimic real people. So when Shinku is hurt, the greatest part of the pain she suffers is having this rags-and-patches side of her displayed to everyone present.