Koram Comes to Her Senses
Source: Movie
Layers: 1
No sketches available
Cel Number: A31, B31
Oversize, 14W x 9.25H

No Background

Added 2/27/2010
Updated 6/25/2016

CAUTION: SPOILER!

The very climax of the plot comes when the spirits of Koram and Palme, now united in despair, find each other in a spiritual world of deep darkness. Koram now realizes that, even if she penetrates to the memory bank of Soma, she will never really be able to confront the father whom she hates. Palme, likewise, understands that his desire to become human is not only impossible, it isn't even what his heart really desires.

Koram lies crumpled over on the ground, sobbing with her head in her hands. Palme embraces her in the darkness and, not knowing what else to do, sings her the eerie song he made to keen over his dead mistress Xian's grave. And, in some mysterious way, the sharing of his own pain heals that of the bloodthirsty warrior Koram.

At the end of this scene, Koram stops crying. Then she slowly lifts her hands from her face, staring at them in astonishment at finally having broken out of the depths of her despair. Sequence numbers: A31 (Koram's face), B31 (her hands, robe, and ropes of hair).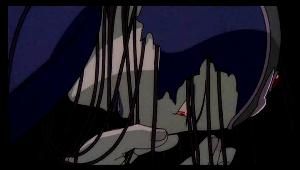 For another beautiful cel from a little later on in this moving climax, see Vapalla's Cels.