"We Missed the Turnoff to the Underworld!"
Source: Movie
Layers: 4
No sketches available
Cel Number: A1, B1, C1, D1
Oversize, 13.25W x 9H

Key Cel
No Background

Added 2/27/2010
Updated 4/14/2017

Cut 934. Having successfully ambushed Darumaya's houseboat and snatched Palme from his prison, the none-too-swift Hunters are trying to return with him to their spidercraft to an entryway to their underground home. However, the wiry puppet manages to wriggle his way out of his captor's grasp and leap overboard. Here one them is watching the poor guy being dragged behind them by one of his connections and (as usual) wondering what to do next.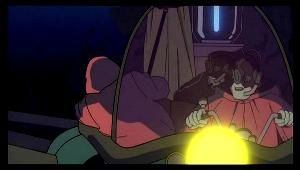 This complicated setup includes four layers: A1 (debris kicked up behind), B1 (the craft), C1 (the spider arms to the left), and D1 (the Hunters). An extra layer added some dusty airbrushing, but as it obscured the detail of the lower layers I left it off the scan.