Sakura Faces Madoushi
Source: Movie
Layers: 1
No sketches available
Cel Number: A5 END
Standard size

Key Cel
End Cel
No Background

Added 2/19/2010
Updated 5/9/2016

Sakura penetrates to the magical world where Madoushi dwells and demands that she release her friends. "Then bring Clow Reed to me!" the sorceress snaps back. While Kero-chan (on another layer, which didn't come with this cel) is angrily trying to get her to understand that the wizard isn't on earth any more, both females suddenly get more thoughtful.

"All this time, I've been waiting for Clow to come . . . all this time . . ." Madoushi ruminates, and Sakura's face, originally sad but stern, suddenly turns surprised and alert. She's begun to see the path to the insight that leads to the plot's powerful resolution. Sequence number: A5 END.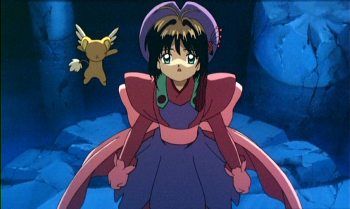 Screencap courtesy of Desertmoon.org

When this cel appeared on Yahoo Japan! I was being much more selective about purchases, especially from this series. I saw it, and thought, "That would be nice for someone to collect!" Then, "I wouldn't mind having that myself! But . . . "

It was very pretty, I thought, and a lovely view of this costume, which I didn't have in my collection. But pretty enough to buy?

The turning point came when I consulted my copy of The Complete Book of the Animated Movie "Cardcaptor Sakura" to locate this scene and found that someone before me had also found this cel pretty – pretty enough to feature on the artbook page summarizing this scene.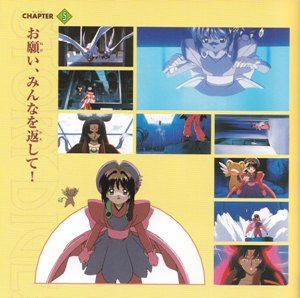 I've followed the artbook's suggestion and suggested the background with a half-moon-shaped piece of art paper. The cel really does capture the surprising dynamic of this plot. Sakura's phobia all along has been yurei, which are not "ghosts" in the Western sense but souls trapped in this world by some unfinished business.

At this point she finds that, past terror, there comes understanding, and past that, recognition that the eerie revenant still has an essentially human, feminine soul. And then comes compassion for her tragic situation.




SENSEI CHECK!

The battle costume here is the "Cherry Blossom" outfit Tomoyo has provided for Sakura, inspired by the hairclip Yukito has bought for her in the Hong Kong market. "It is completely made of water-resistant materials, so it will be fine in water," the hero-worshiping friend assures the Cardcaptor.

But has anyone ever wondered exactly how Tomoyo manages to fabricate this clever costume in the short period of time between her rescue from Madoushi's world and their return to the hotel? Remember, she is on vacation, presumably traveling without her sewing machine and other seamstress tools?

And are waterproof fabrics so easy to purchase in the Hong Kong market, particularly batches in just the right colors to match the hairclip that Yukito bought Sakura on an impulse just the day before?

Again, one is left marveling at Tomoyo's ingenuity and wondering if she does not possess her own brand of fairy-godmother-style supernatural powers.