Holy Bell Sings: Rough Genga
Source: Movie
Layers: 1
No sketches available
Oversize, 14W x 9.5H

No Background

Added 1/16/2010
Updated 1/9/2016

And here is the rough animator's sketch that actually created the image seen in the cel. Notice how the overall outlines and position of the figures were worked out first in a flurry of bright yellow pencil strokes. Then the artist (presumably one of the ten animation directors credited for this complex project) refined the image in elegant, flowing pencil lines.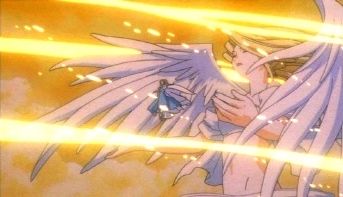 Screen cap courtesy of Doug's Cels.




The foreshortening of Bell's arms, which extend both in front of and behind her face and body, is especially well done. Also see how the windblown quality of her cloak and hair are beautifully executed (as well as those of the dwarfed image of Belldandy), even in this first-level version of the image.

The artist was careful to establish the contour of Bell's bust behind her left hand. This isn't just sensuality: as she moves both arms in time with her song, it was important to set up just what her body would look like in profile when they weren't in the way. Likewise, the posing of her upper arms and shoulders are fully established, even though her fluttering robe would mostly conceal them.

As lovely as the cel is, I have to say that I was astounded by the beauty of this image, the more so as it is not just a version of the cel picture, but the original artist's creation of the scene. Visit the thumbnail for a detail from the sketch, about actual size, so you can see how the image was sketched, with very few second guesses or erasures, on top of the preliminary colored pencil scribbles.


Click to open in new window