"Peau" has dinner with Tommy-kun
Source: TV
Layers: 4
Sketches: 2
Cel Number: A1 END, B11, D1
Standard size

Key Cel
Book Cel
Original Matching Background

Added 1/16/2010
Updated 8/24/2013

Episode 16 (Everybody, Strange?) cut 227. Tommy-kun has taken Peau out on a date to a fancy riverboat restaurant, where she's about to dig into a tasty-looking broiled fish, steaming hot from the kitchen.

The atmosphere is right -- the food is obviously first-rate -- you could choose worse dates than poor loyal Tommy-kun -- so why the sweatdrop?

-- and why does she have balloons attached to her instead of her power balls -- ?

-- and does Peau ever have fangs?

-- and why is this in "Natsuki Cels" and not in "All the Rest"??

Wa--ait a minute!

Sequence numbers: Unnumbered book layer (railing and portico for steamboat), A1 END (fish, table, and dinner guests behind), B11 ("Peau"), D1 (steam rising from fish).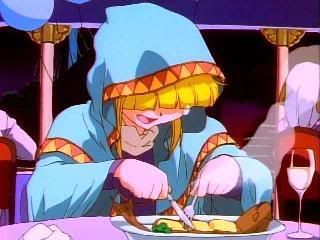 (So does Peau ever have fangs? Actually: yes, she does!)

For more information on this very funny scene, see the gengas for this cut, which I obtained in an earlier deal.

Since October 2006, I'd previously displayed the B7 cel here, using the A1 END genga as background to supply the missing table, fish, and fellow diners. It's a treat to replace this now with the B11 cel, along with the original matching background and the other cel layers. The thumbs show the dougas for the A1 and B11 layers.


Click to open in new window