Ep. 68: Clow Reed's Garden: Fall
Source: TV
Layers: 1
No sketches available
Oversize, 15.5W x 12H

Book Cel
Original Matching Background

Added 10/8/2009
Updated 5/3/2017

Episode 68: Sakura, the Past, and Clow Reed, cut 193. After watching a dragonfly flit through the last summer scene, Clow turns to Sakura and begins his response to her concerns with a question: "Have you ever paid attention to how the seasons change?" At this, the scene fades suddenly into this intense autumnal landscape, reminiscent of Charles Munch's nightmarish landscapes.

Notice how the carefully landscaped garden simply devolves into a wild forest, while the neat stone wall becomes a rude circle of fieldstones. It's as if we are moving, not into the next season, but into a scene far in the future, when the garden, neglected for centuries, has deteriorated into rubble and undergrowth. An unnumbered book layer with bare tree trunks in the foreground provides an extra sense of depth.

After some additional comments, the same background is used again (cut 198), now with tiny images of Sakura facing Clow from a distance. A cel overlay shows autumn leaves fluttering down. One happens to drift over top of the Clow image for an instant, and when it moves by, the magician has vanished – an immensely powerful effect.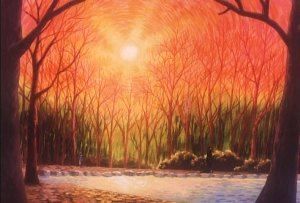 Screencap courtesy of Desertmoon.org

It is interesting to compare the delicate coloring of the scan with the darker, more autumnal-tinged screen cap. I suspect that, as with other backgrounds in this sequence, the studio actually used a laser-printed, digitally manipulated copy of this watercolor as the actual backing for the cels.

It is also interesting that, while "Spring" and "Summer" (and "Winter," which follows) are actually rather small, exquisitely detailed watercolors that take up only part of the standard-sized sheet, this powerful image fills a much larger art paper sheet, about 15.5 x 12 inches in scope. Visit the thumbnail for a scan of the watercolor alone, without the top book layer.

This lovely background has for some time been a part of Rallihir's magnificent CCS collection, and when I recently obtained a "Summer" background of Clow's garden to go with my treasured "Spring" and "Winter" scenes, I coveted it more than ever. Thankfully, my fellow curator's love for this series and its art is as great as mine, and he understood the reason that I wanted to reunite all the iconic images of the four seasons from this episode. My heartfelt thanks to him for making this possible.


Click to open in new window