Sakura Furious at Natsuki
Source: TV
Layers: 2
Sketches: 1
Cel Number: A4, B6
Standard size

No Background

Added 9/30/2009
Updated 8/24/2013

Episode 9. Friendship Like Ice, Cut 61. During a long lean period, the bounty hunters run low on cash and consequently on food. Trying to be helpful, Natsuki offers her partner a handful of dry cat food nuggets. (Back when she had money, she'd bought a six month supply on sale.) The nuggets are nutritious and better than nothing, even if they could use a touch of salt, but the proud fox-spirit Sakura erupts at the very thought of subsisting on cat food. Sequence numbers: A4 (Natsuki), B6 (Sakura), B6 kabuse (corrects Sakura's face and hair).

The cel layers go together well but are actually mismatched, as you can see from the screen caps below.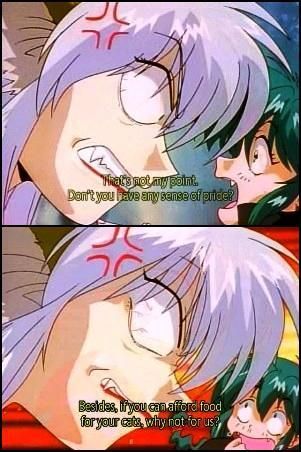 Click to open in new window