Ep. 68: Clow Reed's Garden: Summer
Source: TV
Layers: 0
Sketches: 2
Standard size

Original Matching Background

Added 9/30/2009
Updated 5/3/2017

Episode 68: Sakura, the Past, and Clow Reed, cut 191. Spring gives way to summer, and, while Yue and Kero nap, Sakura nervously shares her concerns with Clow Reed. While she loves the Cards and her Protectors, she admits that she is afraid that her magical abilities are not equal to his.

At this, Clow silently rises and walks out of the shadow of the tree where they have been resting and looks at the puffy clouds that are looming in the distance. "Soon summer will be over," he comments enigmatically.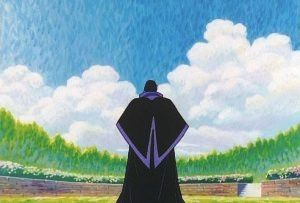 Screencap courtesy of Desertmoon.org

This beautiful background is the match to my "Spring" and "Winter" backgrounds from this haunting episode and like them shows the amphitheatre-like wall that surrounds the central lawn. The scene so far has been idyllic, but this moment suggests the stormy, nightmarish scenes that follow.

The layout that came with this background is extraordinarily detailed, just like the artwork. Click the second thumbnail to see the back of the sketch, where the art director or artist worked out the details of those billowing cumulus clouds.


Click to open in new window