Supersized Sakura
Source: TV
Layers: 1
Sketches: 1
Cel Number: B47
Standard size

Original Unmatching Background

Added 8/15/2009
Updated 4/26/2017

Episode: 31 (Sakura and the Mysterious Book). It takes some convincing on the part of Tomoyo and the others to talk her into it, but Sakura finally activates The Big and grows herself to Dragonslayer size in order to stop the big kaijuu that Naoko has dreamed up. This cel comes from a sequence in which we see Sakura expanding up and out from a camera perspective that starts out well above her head (see the first thumb for the B1 cel, which I got as an omake with this one). Then, as she gets larger, her face, staring intensely upward, fills the screen, and the cut comes close to becoming an "eyeball zoom" of the sort used when characters "power up" internally.

Instead, however, we see Sakura's face pass the "camera's eye," which pans up to follow her head as it recedes from us, finishing at the level of the gigantic Cardcaptor's knees. Sequence number: B47.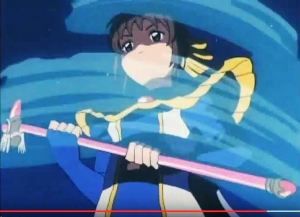 I watched this cel go around several times on Yahoo Japan, though I was from the start tempted by it. I knew that the curator of Michael's Cardcaptors had a whole series of cels from this cut on his "Must Find" page displaying his Episode 31 collection, beginning just after the B1 and ending just before my B47. So I hesitated, but finally went for the set after it was clear he was not biting. It certainly shows the skill with which the animators used shadows and skewed perspective to make Sakura look genuinely massive in this image, even though in physical size the image painted on this standard-sized cel is no bigger than any other one of this character. See how her wand is radically distorted at top and bottom, in both the B1 and the B47, to make it seem as if one end of the staff is physically much closer to the viewer than the other.

The background is genuine CCS production art but actually comes from Episode 68, cut 95, where it backs a shower of snowflakes coming from a foreboding winter sky. It's actually upside down in this scan, but the ominous quality I got positioning it this way made it a natural to go with this cel. You can get a look at the watercolor background (right-side-up, along with the sketches that came with it) in the gallery devoted to CCS Backgrounds.



Click to open in new window