Yōkai Son Goku: A1 genga
Source: TV
Layers: 1
Sketches: 1
Cel Number: A1
Standard size

No Background

Added 7/15/2009
Updated 7/19/2009

As those who know the Chinese epic The Journey to the West are aware, Son Goku begins existence as a trickster god of frighteningly powerful strength. As "The Great Sage Equal to Heaven," he continually disrupts the heavenly court until Buddha Himself has to intervene and confine his powers with a forehead-encircling band. There are a few moments in the Saiyuki saga when we see Son Goku without this band, in his true, pointy-eared, nearly omnipotent form, and this is one.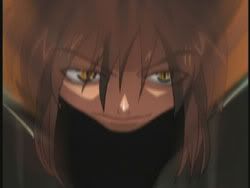 My good friend Tex-chan (who converted me to a lover of art from this series) has the A3 genga from this cut and identifies its context as Gensoumaden Saiyuki, Episode 48: "Heaven's Door -- Absolutely Heaven." The screencap above is borrowed from her gallery with permission: visit her page for a full synopsis of this important scene (yeah, yeah, contains spoilers).

I've lusted after a "Great Sage Equal to Heaven" genga for a long time; unfortunately, so have many other people. But the wait was worth it, because this one, with its sly, confident smile, is everything I'd ever wanted. Although yōkai Goku has to live in the closet with Koram and my other inconveniently super-sized pieces of animation art, he is still devoutly worshipped by this devotee.

Besides, I suspect yōkai Goku likes Koram! (Paper and plastic can get along, after all.)

My thanks to Titania for being willing to accept an offer on this prize.