Princess Kraehe in the Feather Forest
Source: TV
Layers: 1
Sketches: 1
Cel Number: A1
Standard size

No Background

Added 7/15/2009
Updated 1/11/2016

23. Akt: "Marionette" ~Ruslan und Ludmilla~ cuts 46, 48. A moody close-up of Princess Kraehe, who's standing in the middle of the forest of white feathers where she meets with her father, the Raven who has sworn to defeat Prince Mytho and finish Drosselmeyer's unfinished tale.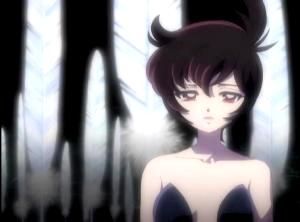 I was happy to see this sketch appear for auction, both because Tutu art is extremely difficult to find and because it gives a clearer image of how the feathers painted in the previous background were actually used in montage fashion to suggest a deep, three-dimensional mental wilderness.