Princess Kraehe
Source: TV
Layers: 1
Sketches: 1
Standard size

No Background

Added 7/15/2009
Updated 1/11/2016

Akt 23 - Kapitel des Junges: Marionettes ~ Ruslan und Ludmilla. This very beautiful sketch appears shortly after the previous cut: Kraehe's raven father, impatient for a human heart to restore his strength, threatens to take hers if there are any more delays.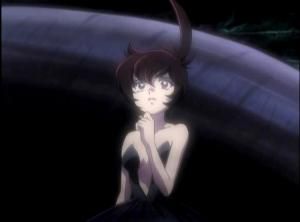 This drawing lacks a sequence number and was perhaps a trial draft by a key animator. Still, it is remarkably finished, including shadows defined in blue pencil and a profound blush on Kraehe's face as she raises her hand in shock and confusion. This is one of the finest Tutu sketches I've seen on the market, and it was sheer good luck to see it come up unexpectedly for auction.




SENSEI CHECK!

Has anyone ever noticed that both Kraehe and Tutu/Ahiru all have that prominent feather-like hair strand that stubbornly sticks straight up? And that Tutu's appearance is the catalyst that awakens the Kraehe side of Ahiru's elder classmate Rue?

That suggests that, as in many other shoujo series, the two are in fact mirror images of each other, and just as Mytho has to assemble his shattered personality, so too the shattered personalities of Ahiru/Rue/Tutu/Kraehe have to unite and become one complex individual to bring the story to a happy conclusion.