Noelle OP
Source: TV
Layers: 1
No sketches available
Cel Number: A11
Standard size
Opening Cel

Key Cel
No Background

Added 5/31/2009
Updated 4/22/2017

One of the most familiar moments in the opening animation is this moment from the very start, which captures the basic conflict of this series in two quick cuts. First we see Noelle, turning and glancing with amorous flirtation at her beloved. Sequence number: A11 (key).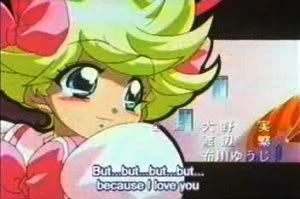 Elsewhere in RS, Otakusin has the A2 as well as the A7.

This cel came without its douga, but the fact that the sequence number is circled on the cel sheet, plus visual inspection of the cut (this moment marks the peak moment of action in the middle of the sequence) confirms that this is a key.