Episode 1: A Tomoeda Street at Midnight
Source: TV
Layers: 2
Sketches: 1
Oversize, 14.5W x 16.25H

Original Matching Background

Added 5/31/2009
Updated 11/26/2013

Episode 1, Cut 297. This moody, well-executed background originally backed two small images of Sakura and Kero-chan on their first Cardcaptoring adventure.. As the annotations on the copy layout (available in the thumbnails on the linked page) show, the plan was to begin with a long shot of the two characters looking up apprehensively.




Then, as if through the eyes of their quarry, The Fly Card, the camera would zoom down into the scene, coming closer to Sakura and Kero, who would turn and race up the sheet as if trying to escape down the street. The zoomed-in camera then would then pan with them up the background sheet to the top center.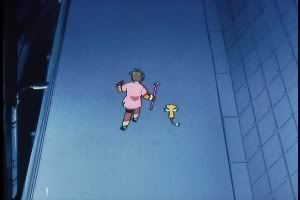 Both screencaps courtesy of Desertmoon.org

Ah, but the original watercolor background, capacious (370 x 410) as it was, turned out to be just too small for this zoom/pan up. So the studio had to add a strip of paper at the top, then cover both old and new background with an acetate sheet. This was heavily airbrushed on the front to keep the rough join from being visible in the final production cut.

See the thumbnails for closer looks at the top of the sheet, where you can see where the airbrushing begins about three quarters of the way up, and for a digicam shot of the back of the sheet, where you can see how the strip was roughly basted on with cheap celotape. The whole item is a revealing example of some of the "quick fixes" that studios obviously had to think up to deal with minor crises of this sort.


Click to open in new window