Squid Noelle OP
Source: TV
Layers: 1
Sketches: 1
Cel Number: A7
Standard size
Opening Cel

Key Cel
Original Unmatching Background

Added 5/14/2009
Updated 4/22/2017

One part of the first version of the OP features brief appearances by the "monsters of the week" who initially provide much of the conflict. One of the most interesting MotWs is Squid Noelle, who makes quite an impact in Episode 7, partially thanks to the veteran seiyuu Yuri Shiratori. (Her other credits include Nanami in Utena , Cherry in Sabre Marionette J, and both Mokona and Primera in Magic Knight Rayearth.) This lightning-quick cut shows Squid Noelle streaking out toward the viewer as if she's trying to give us a wet sloppy kiss. Sequence number: A7 (key)

Paparapuuu!!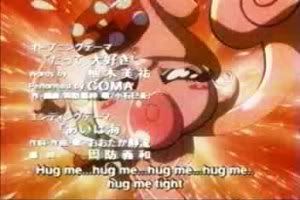 The background used in the scan above is actually from Tonde Buurin but was similar in color and impact to the one seen in the screen cap. Besides, it made the cel feel "right at home." (Yuri Shiratori was also the original voice for Karin/Buurin as well, and of course Hiromi Kato designed both characters.)

Otakusin has this cel's immediate sequence-buddy, the A8 in this all-too-brief cut.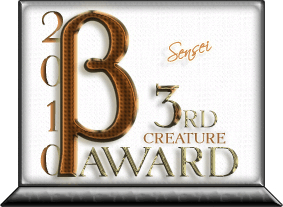 Click to open in new window