Noble Scarlet
Source: OVA
Layers: 1
No sketches available
Cel Number: C10
Oversize, 14W x 9.5H

Key Cel
Original Unmatching Background

Added 5/14/2009
Updated 1/9/2016

This cel appears in the same scene as the previous one of Holy Bell where the other goddesses--including Skuld, along with Urd and even Peorth--summon their angels to join in Bell and Belldandy's healing song for the ravaged earth. Here we see cute little Noble Scarlet, singing from the heart, her hands clasped against her chest to keep her angelic fledgling trainer bra from flapping off in the breeze. Sequence number: C10.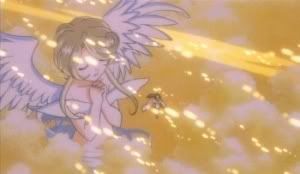 Screen cap courtesy of Doug's Cels.

As you can see from the screen cap, this image was part of a multi-layer set-up in which Noble Scarlet's wings appeared on a back layer and a small image of Skuld appeared on front, along with several layers of special effects. From what I can tell, though, all the cels from this cut were sold separately from their wing layers. In imaging this cel, I used a nice sunset production bg that I got with a TnN cel. It didn't suit the Tennimon cel at all, but it makes Noble Scarlet's golden shadows really glow.

Noble Scarlet is a difficult angel to net: she appears in only two cuts in the movie, this one and another in which she's summoned for an attack on Celestine. In addition to the C20 owned by Doug's Cels (link above), Tamao Gallery owns the C18.