Mokoto Uses Her Magic
Source: TV
Layers: 1
Sketches: 3
Standard size

No Background

Added 5/14/2009
Updated 9/21/2017

Episode 18, cut 139. Here's Makoto, normally the kutziest of the magical girls, responding to Itoki's elemental water attack with considerable confidence and authority. (She's using her ability to control size by turning a banana into a boat that they can use to navigate the school's flooded corridors.)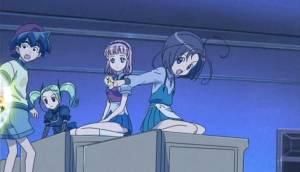 The A4/C4 genga shown above is really a strong piece of dramatic characterization. There's Matoko in front, directing the expanding banana across the screen in front (another genga, not imaged, works out its sinuous path). To the right is poor Monta, who's visibly staggered at the girls' sudden mastery of the occult. Between the two in back are Anri, who's smirking in satisfaction, and Tsukasa, who's watching with her usual impassive composure.

The fingernails show 1) an interesting earlier version of the scene on a sheet of layout paper, full of erasures and second thoughts, and 2) the partial B1/C1 showing the start of the cut.

This sketch set consists of six layout sketches and eight gengas (with four shuuseis), mostly partials dealing with the mechanics of Makoto's arm motion and the sinuous path the enlarging banana takes in front of her. There was also a blank pink sheet that seems to have simply defined the size of the image's frame (you can see from the layout in the first thumb how this changed at an early stage). The dougas consisted of an A1 END image of the desks; B1'-B4' plus a base douga for the Monta, Anri, and Tsukasa; C1-C7' for Motoko (C6' and C7' are partials of her arm with a base douga for the rest of her); and D1 END for the banana that just drifts across the frame.




SENSEI CHECK!

One of the delightful premises of this surprisingly clever series is that each of the magical girls has a "wild talent" that grants them membership in the club. During the first series, their mentors, suspicious of the High Priestess's agenda, do everything they can to prevent the girls from using their powers. At most times, for this reason, the group does seem like an normal unmagical after-school club, dealing with typical elementary school social dramas and learning to resolve them in mundane ways.

Perhaps the reason for this is that the alleged teachers really have nothing to teach the girls. As soon as they are released from their vows, each of them at once shows an uncanny ability to size up a situation and improvise spells to take control.


Click to open in new window