Sasami Gets Her Head Scruffed
Source: TV
Layers: 1
Sketches: 3
Cel Number: A1, A2
Standard size

No Background

Added 5/14/2009
Updated 9/20/2017

Cut 107. Sasami covers her tearful moment as tactfully as she can, but Amitav sees how strongly his story has touched her. Not knowing what to say or do, he simply reaches over and scruffs her affectionately on the top of her head.

In this cut, a tight close-up, Sasami, her eyes still moist, feels Amitav's hand on her head and looks up at him in surprise. It's a key moment: in a lesser series the animators could simply have let the tension dissipate. But while Sasami she can see that Amitav is trying to cheer her up, she's still uncertain about what will happen next.

In the end, she reaches up and scruffs him back. The two giggle, a little nervously, and scruff each other again. And then suddenly ... eyecatch!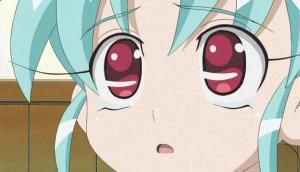 The image featured is the fine rough, which became the A2 END key. The start and end gengas are added in the thumbnails.


Click to open in new window