Interested bystanders
Source: TV
Layers: 1
No sketches available
Standard size

No Background

Added 2/22/2009
Updated 3/24/2013

After a short while, Kitarō and his friends decide to visit "Father Trout" in his temple in the mountains of Gifu prefecture, to see how the apprenticeship is going. Accompanying Kitarō, his father, and Ittan Momen, their normal mode of transportation, are Neko Mesume and two interesting minor characters, Amabie and Kawauso. This interesting sketch (though it is probably from the climactic battle scene later in the episode) shows the three of them together. The screencap below (from a later scene) shows them together with the other, more familiar Kitarō-tachi:




Both characters are drawn from traditional Japanese legendry. The odd fishlike character (far left in the sketch above) is Amabie [アマビエ], a levitating mermaid with a beak like a bird. She is based on a 19th-century legend that told of a strange apparition that reappeared day after day on the surface of the seacoast of Kunamoto prefecture. The being told authority who came to investigate that she was a propitious omen who had come to foretell six years of good harvest. In addition, she said, if an epidemic were to occur, people had only to look at a picture of her, and they would be spared.

The witness described Amabie as having a body like a fish, covered all over with scales, but with long hair and a mouth that stuck out like a cylinder. A tile engraved with her image was widely distributed during that time.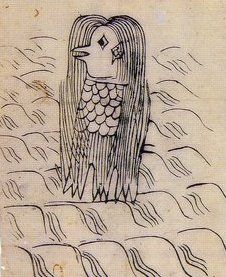 According to Wikipedia she is one of several mysterious apparitions that occurred around this time, many coming from the sea in mermaid/merman form but others appearing as hairy wild men from the mountains.

The character on the right is Kawauso [かわうそ] or "River otter." Japanese lore held that this animal, once common in Japan like the fox and tanuki, was a magical creature capable of shapeshifting or imitating human behavior. As such he is depicted in Sekien's famous 18th century anthology of yōkai, the Gazu Hyakki Yakō.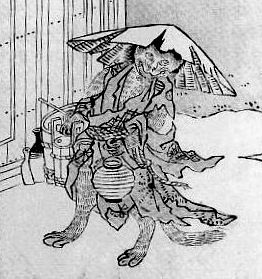 Sadly, the animal has not been seen in the wild since 1979 and may be extinct, except in yōkai form. In Kitaro 5, where he is the first of the 47 yōkai warriors to be identified, he often appears with a tattered conical hat and a lantern, as in Sekien's woodcut.


Click to open in new window