Ready to take wing
Source: TV
Layers: 1
No sketches available
Cel Number: A18
Standard size

No Background

Added 1/5/2009
Updated 6/25/2017

Step 12: To Love Is To Be Loved? Cut 305. Noelle, excited over the imminent arrival of the Durian Comet, is practicing on the rooftop with the flying contraption Ruka has built for her. "I think Yuusuke is going to be Natsumi's angel," Ruka warns her sister. "Is that going to be all right?" "Sure!" the ever-optimistic Noelle replies. "Yuusuke will be Natsumi's angel and I'll be Yuusuke's angel!"

And with that, she trots down the ridge of the roof, trying once more to ascend into the air.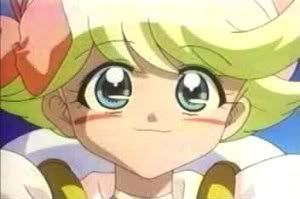 This lovely portrait of Noelle came to me as an unexpected birthday present from my good friend vampyreshoujo. I love the liquid look of her eyes in this brilliantly-colored image. The screen cap is approximate, as this cel fits into a short repeating bank as she picks up speed before launching herself once more. It is painted nearly corner-to-corner, and so I've left the edges uncropped to give a better sense of the true size of this prized piece.




SENSEI CHECK!

It is interesting that this love triangle never really resolves in the series, though as we go through the darker second story arc, Natsumi confronts her inner demons, as does Noelle, and both emerge at the end fuller, more confident young adults. I have often suspected that Natsumi is the real protagonist of this series, and that Noelle is supposed to be her wild, id-dominated "inner child" that she ultimately has to acknowledge and tame.