Blowing in the Wind
Source: TV
Layers: 1
Sketches: 3
Cel Number: A1
Standard size
Opening Cel

No Background

Added 12/10/2008
Updated 5/23/2017

Episode 22: Peau's Depression, cut 25. This fine episode (one of four in the series directed by Tatsuya Ishihara) focuses on the uneasy relationship between the human magic user Peau (also transliterated Po or Poe) and her devoted admirer, the doggie-monster Tommy-kun. This image, however, shows the big kaboom at the start of the episode in which the flyer piloted by the obnoxious police agent Fonne crashes with poor Tommy on board.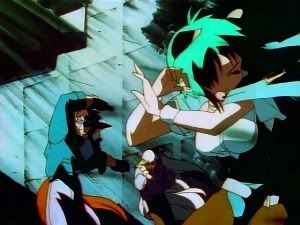 Shown above is the rough sketch, which, like others from Ishihara-directed episodes, is rather faint but beautifully executed. It is probably the work of Kazumi Ikeda, later one of the central animators in Ishihara-directed projects such as Clannad and the 2006 remake of Kanon.

The thumbnails add the copy layout and the finished A1 genga for this image. The other key gengas in this set are partials showing the characters being blown around a bit in the blast and debris flying past.




Caution! Fussy Notes

While the copy layouts that I've obtained for Episodes 18 and 24 show Ishihara's distinctive stamp in the bottom right corner, none of the ones I've gotten for Episode 22 show it. Instead, there is an odd circled symbol--two short lines with a longer line under them--there instead:




In sorting out my collection of sketches for long-term storage, I noticed that this little three-lines symbol appears on my Episode 14 layouts as well: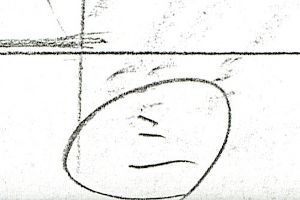 And the single layout I got from Episode 24 bears both Ishihara's stamp and the three-lines symbol.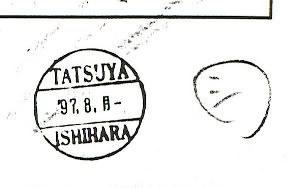 The common link is Kazumi Ikeda, who served as animation director for each of these episodes. So this three-lines symbol must be her signature, just as the "Shoko" and "spectacles" stamp served as her sister Shoko Ikeda's personal symbols on the Inuyasha sketches and layouts that she executed.


Click to open in new window