Hans and the Golden Bird
Source: Movie
Layers: 1
Sketches: 1
Cel Number: B23
Standard size

No Background

Added 11/14/2008
Updated 1/21/2017

This is a pretty image of Hans holding the titular golden bird. There are some interesting aspects of the animation, however. At first I thought the yellow paint had badly faded the trace lines of the bird, but a closer look shows that Madhouse used painted-on, colored trace lines here, then made the creature even more ethereal by adding a touch of airbrushing to the back of the cel.

This image appears around 26:00 of the YouTube version.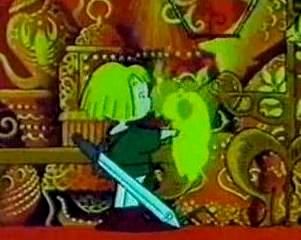 Click to open in new window