The Witch
Source: Movie
Layers: 1
No sketches available
Cel Number: A8
Standard size

No Background

Added 11/14/2008
Updated 1/21/2017

This image shows the distinctive approach of animation director and character designer Manabu Oohashi. A smile-provoking portrait shows the tale's villainess in a moment of bemused exasperation, shortly after she has captured Hans and his two incompetent brothers. This image appears around 27:24 of the YouTube version.

The long, sharp-looking fingernails are a nice touch, as is the vaguely medieval hairdo made up of disconnected dark-blue balls.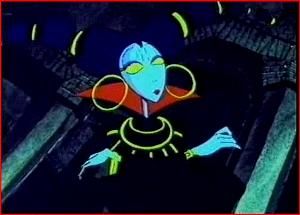 The role was likewise assigned to a distinguished voice actor, in this case done in drag by the late Kei Tomoyama (1938-1995). This seiyuu created the title character of Tiger Mask (1969-71) and Susumu Kodai in the 1977 Space Battleship Yamato movie, as well as Nezumi Otoko (Rat Man) in the 1980s version of Gegege no Kitaro. (And, incidentally, Cuchulainn, in the interesting Yōsei-Ō OAV.) In addition, Tomoyama was the Japanese dubbed voice of Bugs Bunny in the adaptations of this Warner Brothers classic. He was posthumously awarded a special achievement award at the first Japanese Seiyuu Awards in 2007.