Transfiguration: A7, Aロ, A8
Source: TV
Layers: 1
Sketches: 3
Cel Number: A7, Aロ, A8
Standard size

No Background

Added 10/10/2008
Updated 1/16/2017

Here is the A7 genga, showing Sakura with her hands still upraised as in the previous image, but stunned by the appearance of the glowing sphere.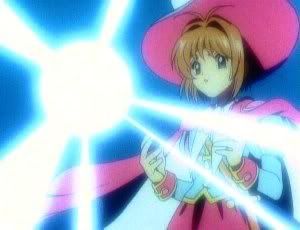 Screencap courtesy of Desertmoon.org

This key begins a virtuoso bit of animation. When The Light emerges from Sakura's heart, where the Card has been residing since she opened the Clow Book, she circles entirely around Sakura's head in the form of a globe. That would have been simple enough to animate. Except Madhouse has the camera travel along with the glowing ball, so we viewers too seem to rise in the air and float around the awe-struck Cardcaptor in a quick circuit.

Thus the gengas work out a constantly changing series of perspectives of Sakura's complicated outfit, still billowing out dramatically from the effects of her transfiguration. And the animators cut no corners: look closely at Sakura's left hand, where the artist filled in the outline of the thumb, which is mostly hidden behind the half-unfolded fingers, so that the cel painter would get those fleeting glimpses of that finger up against the front of her frock exactly right.

Meanwhile, the ball of light also does not remain in the same place, but pulsates and moves around in the frame, with beams shooting out from the center in a different way each moment.

The thumbs take you to the next two stages in this quick and amazingly complicated sequence. The first thumb is an inbetweener, marked Aロ [ro], and shows a rougher but still impressive image with both Sakura and the emerging Light in the same sketch. The second thumb shows the A8 genga, where we are traveling with The Light up above Sakura and around behind her, too quickly for her to follow.




SENSEI CHECK!

Worth noting: circling around something or someone is part of many ancient forms of magic. Moving "sunwise," or clockwise (turning toward the right), is usually considered lucky or fortunate, while rotating "widdershins," or counterclockwise (turning toward the left) is often a token of a sinister, unlucky influence.

However, as Sakura's magick is based on Clow Reed's "powers of darkness," it is no surprise that even The Light makes her appearance by circling Sakura widdershins. This demonstrates that, even with all the show of illumination, this is still a dark magickal working. [No surprise either that the last Card to be used in the second story arc of the manga is The Dark.]


Click to open in new window