"I Will Protect You -- For Sure!"
Source: TV
Layers: 1
Sketches: 3
Standard size

No Background

Added 9/17/2008
Updated 6/26/2013

Cut 258. Yue comforts the distraught Sakura, who's witnessed the Power Transfer from the other side of the door, explaining that her brother has made the sacrifice through his own free choice. Pulling herself together, she goes to Touya's bedside, picks up his limp hand, and apologizes to him. "If anything happens to you," she says, "I promise to be there right away."

"I will protect you," she adds, "for sure!"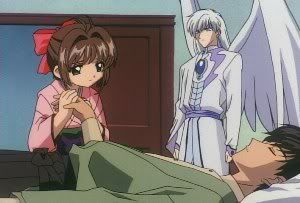 Screencap courtesy of Desertmoon.org

This set of rough sketches works out this powerful moment. They were actually executed on three separate sheets, but I've digitally combined them to save space. You can see unedited versions of the Sakura and Yue layers in the thumbnails. Note that neither character has any legs in these sketches because the animator knew they would be hidden behind Touya and the bed.

These sketches are very similar in technique to others that I've obtained, which Japanese collectors have told me were the work of Mariko Fujita, a distinguished artist who was one of the key animators for CCS. Notice particularly how the outlines of the figures are first worked up roughly in orange pencil (as seen also in this rough sketch of Syaoran), then very quickly and surely finished with a very sharp graphite pencil.

I've also put up (but hidden) a page with some interesting extras that I got in the lot, executed on pink paper, which I think must be instructions to the artist from Kumiko Takashashi, the episode's animation director. (Go to "Private Area" and type in "seemorestuff".)

Edit 02/03/10: Rather poor scans have been replaced by better ones, thanks to my new Canon Canoscan LIDE 90, which does a much better job of making pencil lines look just as they do on the paper.




SENSEI CHECK!

Through the entire series, as we've seen, Touya has been silently guarding over Sakura in the background. I sometimes suspect he has his own "Baito" [part-time job] Card, which he uses to include himself in every public adventure she has. But part of the story's poignant quality is his recognition that he cannot do so forever without "smothering" her in an incestuous affection that would block her from developing her own life, with all its dangers and joys.

So even on an unmagical level Touya was bound to yield his seemingly omniscient guardian powers, and rely on his little sister to follow her own heart, even if it means she ends up with the Chinese brat that he despises ("... because I know that he's going to walk off with something I've treasured my whole life.") It's moving that, even on her immature level, Sakura understands the depth of her brother's sacrifice, and "The Scene" ends with her solemn promise (the "for sure" is the same "zettai" as in her famous "Zettai daijoubu da yo!" Credo) to be her brother's protector.

Yue, standing silently in the background, understands all too well what that promise signifies. Being a Protector is his "part-time job," after all.


Click to open in new window