The Watery
Source: TV
Layers: 1
Sketches: 1
Cel Number: A8
Standard size

Original Matching Background

Added 7/28/2008
Updated 4/26/2017

Episode: 45 (Sakura and the Last Clow Card): During the confrontation with Earthy, Sakura calls on Watery, her most powerful attack card. Sequence number: A8.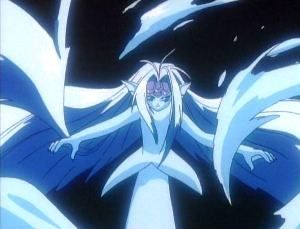 The background is unmatching but appropriate, as it was originally used in Episode 41 to illustrate Sakura and Syaoran using Watery and Freeze simultaneously to capture The Sand. Actually, it's supposed to be a swirl of icebergs, but it looked so much like a raging whirlpool of agitated water that I thought it would fit this cel.




SENSEI CHECK!

For a long time (more than 5 years in fact) I had the A12, a dramatic cel, but with Watery too far in the distance to show his fierce expression to good effect. I'd coveted others from earlier in this cut, such as the stunning A3 that Lonely Mountain has, or Stem Cels' great A6 or its sequence-mate, Macron's cels gallery's nice A7. But when the curator of Sakura Bunnies put this angry image up for offers, I was delighted to add this to my collection. Thank you, Carly!

Macron's cels gallery has a nice long-distance shot, the A16, and Stem Cels has another, the A22.


Click to open in new window