The Harbor of Toroi
Source: Movie
Layers: 1
No sketches available
Oversize, 27W x 17.5H

Original Matching Background

Added 6/13/2008
Updated 3/22/2017

This enormous background backs cut 1263, a scene in which Popo bids an affectionate farewell to Crickle, the captain who has watched out for her and spared her the worst of the abuse her mother Darumaya aims at her. Here you see some of the slightly shabby dock facilities at this frontier town.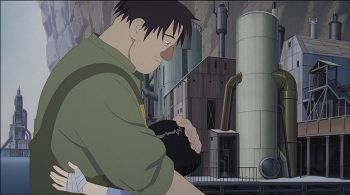 The detail of this poster-sized watercolor background is astonishing. Click the thumbnail for a closer look at the industrial complex to the right of the sheet: every pipe is connected, every building is supported, and even the stairs that come down from the windlass on the top layer continue realistically in the dark underneath the overhang. Given that our attention is riveted on the two characters to the left, none of this detail could possibly have registered on the minds of any of the movie's viewers, even in the theatre and the less so on a reduced DVD screen.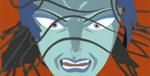 KORAM CHECK!

You'll note that the detail is less finished on the left side. Notice that the pipe from the island dock doesn't go anywhere. That's because this is the part of the screen that would have been hidden behind the corpulant figure of Crickle.

Interestingly, though, at the very end of the scene, Crickle turns and walks off to the left, leaving Popo contemplating his final gift (an old photo of her and her father).




When this happens, we see the rest of the landscape on the left, which now is filled with even more ductwork and industrial buildings not in the background scanned above.

So -- did Nakamura have two landscapes painted? Or did he simply order a book layer that was held in reserve until the very last moment in this scene?

I wondered too, until I took the screen caps shown above. Look at a matched pair of details, showing the railing and the bottom of the sheet-metal tower just to the right of Popo's head.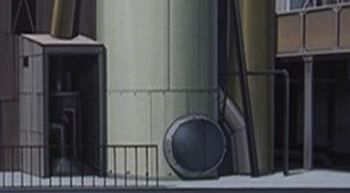 First scene, identical with the background scanned above.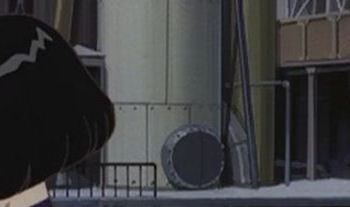 Second scene -- NOT identical! Look at the highlights on the round riveted opening and the shape of the railing.

Two different poster-sized backgrounds, one with room for Crickle, one with more ductwork in the distance!


Click to open in new window