The Healing of Koram
Source: Movie
Layers: 2
No sketches available
Cel Number: A32 END, C52 END
Oversize, 21W x 17H

Key Cel
End Cel
No Background

Added 6/13/2008
Updated 6/25/2016

Then, in a breathtaking moment, Koram rises from her crumpled posture, her face genuinely full of light for the first time in the film, and she turns to Palme in gratitude. This is the A32 END + C52 END image from this tremendous and emotionally satisfying climax.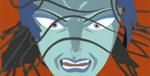 KORAM CHECK!

I'd so wanted a cel from this moment, the last time that we see Koram close up in the movie, that I was willing to take a chance on a messy midden of animation art -- cels, sketches, and backgrounds -- that came up for grabs on Yahoo Japan in May 2008.




It wasn't clear what I'd get, but in one of the dealer's photos I spotted one of "those" cels.




The winning price was modest; the shipping from Japan was a shock; and when I opened the box there was an even bigger shock.

The stuff had simply been put into several large shopping bags in complete disarray. Among the items I kept finding partial layers -- hair, eyes, bald heads. I at first thought that the seller had dumped a lot of unwanted extras in with the batch. But then I started sorting and realized that these extras were all connected and all in order.

Without knowing it, I'd won the entire cut, every single cel, from A1 to A32 END plus nine B layers (her eyes opening at the very start) and fifty-two [! ! ! ! ! !] C layers (her hair blowing around in the wind that always swirls around her).

Not to mention that most of the cels are fully poster-sized (though mostly blank) in girth.




It took me several days to sort, evaluate, and bag the cels. They (and the dougas, and the cut bag, and other related paper) now live in an oversized archival box purchased specifically to hold them.

The batch came with the original matching background, but that was just a huge sheet painted a velvety black that had, like other items in the midden, suffered damage around the edges. So I backed this shot with an art board that was in better condition.

Be careful what you wish for: the celga no kami just might be listening!