Ep. 68: Clow Reed's Garden: Winter
Source: TV
Layers: 1
Sketches: 2
Standard size

Original Matching Background

Added 5/5/2008
Updated 5/3/2017

Episode 68: "Sakura, the Past, and Clow Reed," cut 235. Finally, Sakura sees Clow Reed in the dead of winter, accepting the inevitability of his own death. In a dark, starry setting, he reassures her and tells her that now it is her turn to create her own future.

At the end of this solemn scene, the two return to the garden setting that she saw when she arrived, now encased in snow and ice.

"Look!" Clow tells Sakura, turning to the landscape. "Now winter is finished!"

And, indeed, before her eyes the spring thaw begins.

Ahh . . . this is one of those moments that always gets me emotionally, even just remembering the scene. Perhaps it's because I'm a Southern boy who's spent so much of my life in the North looking for those long-delayed first slips in Winter's grip. Or perhaps, as a teacher living through retirement, I wish so hard for my students to find their own ways and not expect me to dictate would-be wisdom for them to memorize. In any case, it's fulfilling now to have the background from this transcendent, powerful moment.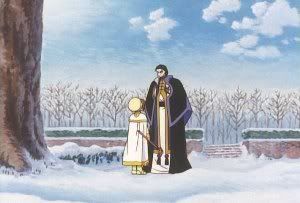 Screencap courtesy of Desertmoon.org

See the two thumbs for some interesting extras: the first is a wonderfully detailed art board working out the details of the background in meticulous detail. The second is the scene before it dissolves back into the garden, showing the starry other world where the deceased Clow Reed reassures Sakura.

Forever Dreaming has another original background of the garden from the same perspective in summer, which has kept its cel layer of Sakura.


Click to open in new window