Ep. 68: Clow Reed's Garden: The Cherry Blossom Tree That Just Won't Bloom
Source: TV
Layers: 1
Sketches: 1
Standard size

Original Matching Background

Added 5/5/2008
Updated 5/3/2017

Episode 68: "Sakura, the Past, and Clow Reed," cut 139. When Sakura uses the Return Card to pass through the sacred cherry tree into the past, she lands by the doorway to Clow Reed's garden. When she peeks through it, she finds Kerberos standing by a bare tree -- presumably the same one through which she's just time-traveled, looking up at it impatiently.

When Yue joins him, he complains, "It's spring already. But this here cherry blossom tree just won't bloom!"

"It'll bloom soon," Yue assures him.

"Like -- how soon?" Kero persists.

"Soon," Yue replies simply.

I've wanted a nice background from this sequence for some time, the more so because the impressionistic style of the artwork is so distinctive and evocative. So it was a sweet, deferred pleasure to nab this one, in fact the establishing shot for the entire sequence that follows.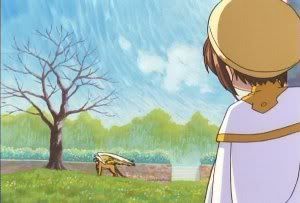 Screencap courtesy of Desertmoon.org

See the thumb for the layout. Interestingly, the artist showed the tree leafing out rather than completely bare.


Click to open in new window