No Need to Cry
Source: TV
Layers: 2
No sketches available
Cel Number: A5E, B1
Standard size

Key Cel
End Cel
No Background

Added 5/5/2008
Updated 4/24/2017

Sakura is frightened by this dark turn of the Dream. Now suddenly in the dark, she stands staring out of the Tokyo Tower windows, unable to make sense of what she is seeing, her eyes brimming with frightened tears. Suddenly, to her immense surprise, she sees -- herself -- floating on the other side of the windows, smiling and comforting her. Sequence number: A5E (Sakura) B1 (Tears and eye highlight)

This is a very lovely cel, with crisp trace lines and a simple but arresting composition. The tears first make you think this is a sad image. But the enormous wide-eyed expression (see how cleverly the eyebrows are drawn, peeking in and out of the hair strands) and the off-center placement of the face make you see that something else is going on.

After my Lenten fast, I found this cel going begging, having gone around once or twice on YJ. Not any more.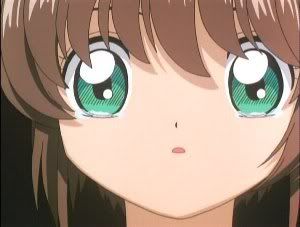 Screencap courtesy of Desertmoon.org