Grimm Masterpiece Theater (Nippon, 1987)
Source: TV
Layers: 1
No sketches available
Standard size

No Background

Added 4/23/2008
Updated 2/15/2013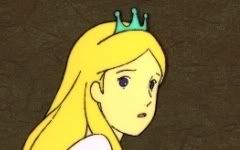 This series, covering two seasons and 41 episodes, was produced by Nippon Animation and broadcast in Japan from October 1987 to March 1988. It was a major influence on manga/anime, as it served to introduce many of the classic Western fairy tales to a broad Japanese audience. it was remarkable for its faithful and often disturbing adaptations of the violent and sexually-charged folktale variants recorded by the Brothers Grimm and other European folklorists.

Character design fell to the charge of Yasuji Mori (1925-92), a distinguished artist who had spent many years with Toei Animation and who was a major influence on the young Hayao Miyazaki (they worked together on Future Boy Conan and Alps no Shoujo Heidi ). Also a productive illustrator of children's books, Mori brought a simple but effective "storybook" approach to this project.

Dubbed by Saban Entertainment as Grimm's Fairy Tale Classics, it was aired in the US on Nickelodeon from 1989 to 1995, where it served as an step-in to the Japanese anime style for a generation of soon-to-be enthusiasts (including myself and my daughter).