Human Natsuki Sprinting toward the Jump
Source: TV
Layers: 2
Sketches: 1
Cel Number: A3 END, B3
Oversize, 10.75W x 14.25H

Key Cel
End Cel
No Background

Added 3/22/2008
Updated 9/11/2013

Episode 25: Which Do You Like? Coming in shortly after the previous image, this action-filled pan cel shows Natsuki building up momentum before her mighty leap in the schoolyard that takes her up, up, up and back into the series driver's seat where she can decide which world she'll continue to inhabit--safe but mundane or dangerous and demented! Sequence numbers: A3 END ("speed lines"), B3 (Natsuki, key).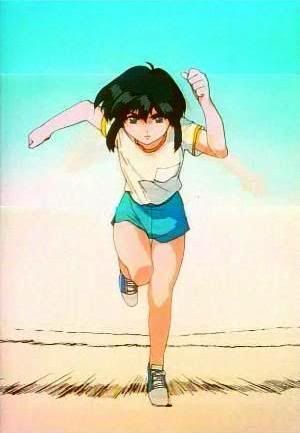 This cut involves a repeating bank of several oversized (270 x 360) cels, which the studio made even more dynamic by panning over very quickly from the top to the very bottom and then, more slowly, back up again. The screen cap above was pasted together from three separate frames.

I think the cels were originally much longer to accommodate this pan, as it looks as if both layers were trimmed on the top, then the strip with the registration holes and the sequence numbers taped back. In any case, both dougas are both much longer than the cels, though the images are the same size. I've suggested the original background with two similarly colored strips of scrapbooking paper.


Click to open in new window