Don't You Want To See?
Source: TV
Layers: 1
No sketches available
Standard size

No Background

Added 3/19/2008

The scene shifts to a close-up, as Kaoru explains that she wants to see what her father actually looks like. Here she explains her determination to the others. This important moment has some interesting psychosexual implications, just like the famous unmasking scene in Phantom of the Opera, and so the studio took care with these key images. I got three of them, all in different stages and done in different colors, but all very handsomely done. This one is the most finished, a nearly complete contour drawing in graphite (but lacking the "55" and other details of her pajamas).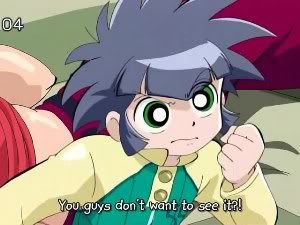 SENSEI CHECK!
Anime, like the Western fairy tale, often introduces strong elements of father-daughter incestuous attraction. Chobits is rather explicit in doing so (Chi's memory loss is a result of her twin sister's sexual desire for her inventor/father), and other series also find ways of implying similar themes (as with Sakura's doomed infatuation in CCS with Yukito*). It's interesting in this episode that Kaoru's wish to see her father unmasked is paired with her attraction to a guy that reminds her (as we learn later) of one of her favorite childhood memories of her father. Thus her desire to "see her father's face" is, like that of many unfortunate fairy tale heroines, paired with her curiosity about his sexual nature, one of the great taboos in world culture.

I won't spoil the ending, but this too is rather eye-opening, very amusing, and yet absolutely true to the disguised sexual theme that this episode develops. Suffice it to say that there's more to behind this episode's silly façade than you might initially suspect.
_________________________
* As made clear in this important exchange in the "Star Path" scene (Ep. 66):

Yukito: You love your father very much, don't you?

Sakura: Yes.

Yukito: What about me?

Sakura: Yes, you, too.

Yukito: Are the feelings not about the same? The love that you feel for your father, and the love you feel for me. Aren't they rather similar?

Sakura: (after a long pause, reluctantly) Yes, they are.

Yukito: Because I am very much like Fujitaka [Sakura's father], right?

Indeed: and readers of the manga know why he (along with Eriol) looks so much like Sakura's father.