Stamps and Sketches
Source: TV
Layers: 1
No sketches available
Standard size

No Background

Added 3/18/2008
Updated 4/11/2017



Caution! Fussy Notes

This episode was created by an animation team directed by Tatsuya Ishihara, an animator who soon after burst into prominence by creating and directing AIR and The Melancholy of Haruhi Suzumiya, widely considered among the most innovative and finely crafted anime series ever done. Ishihara, whose stamp appears on the lower left of all the copy layouts in this gallery, was credited as Episode Director, while Shokō Ikeda, an animator who worked closely with Ishihara on several productions, was credited as Animation Director.

These are a number of distinctive artistic signs that the same artistic team, which I like to call the "Ishihara-tachi," worked on all the artwork for this episode: 1) layouts, roughs, and gengas are very similar in style, more so than in art from any other Inuyasha episode; 2) genzus (exploratory sketches or "rough roughs") use a distinctive "chicken scratch" method of roughing out contours; and 3) all the roughs and gengas are drawn in unusually faint pencil strokes.

How much of the work is actually from Ishihara's hand and how much from Ikeda's? While I can't say for certain, some clues can be gleaned from the use of identifying stamps on some of the sketches. Ishihara used a distinctive stamp, containing his name in Romanji along with the date in Japanese style (year-month-day), as far back as 1997, when he was Animation Director for some episodes of Hyper Police. Here is an example of Ishihara's stamp from one of the cuts on which he worked.




(It says "June 1997" without the day given.)


Now here are examples of the newer stamp that he used while working on Inuyasha in 2004.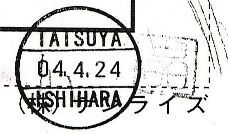 Episode 163 was broadcast on August 23, 2004 (or 04.8.23 in Japanese style), so these stamps show that the actual animation was being worked on between April 24 (04.4.24) and May 10 (04.5.10) earlier that same year. Interestingly, the studio did not always work on cuts in the order in which they appear, since the layout for the complicated "Heartsick Sango," which comes in before the eyecatch, was dated May 10, or two days after the equally complex "Tear-wipe" cut from close to the end.

Now notice that on all of these there is a fainter trace of a second stamp, which I nicknamed "Spectacles," since the design looks like a set of large eyeglasses with a hotdog bun above them. All of the original rough sketches that I got with the copy layouts have a impression of the same stamp. Here are examples of this "Spectacles" stamp from the roughs. The differences in paper color are artifacts of the scanning and digital stretching process. You can see how my old scanner tended to scan light yellow as brown, for instance. In all cases, the stamp is in blue ink on pale yellow paper. The first example in the second row is probably the closest I could get to the actual look of the stamp.





Cel Gallery XYZ, an interesting RS gallery curated by a Japanese collector, has an interesting section devoted to Inuyasha sketches attributed to Shokō Ikeda. This gallery's contents (now password protected, alas) made an interesting comparison with the material in this gallery. The handwriting and sketching style do indeed look the same as the roughs in this gallery. And occasionally you could glimpse stamps that also resemble the "Spectacles" one seen above.

But the stamp isn't visible on some sketches, and in others, particularly those from Episode 128, the stamp is a different one (though the drawing style is still very similar). I finally resolved this last puzzle by acquiring a sketch set from this episode and looking closely at the stamp:




It isn't hard to interpret: the four hiragana characters, read clockwise from the top right, say "Shokō."

According to AIC's interesting description of the anime production process, there are some 200-300 cuts in a typical 25-minute anime episode, which requires something like 3000-4000 individual pieces of hand-drawn art, from roughs to dougas. Thus at least fifty animators will be working simultaneously on a given episode.

The director's hands-on role in this work, according to this source, is essentially over once the storyboard is approved; this person's basic role from this point on is to meet the animators, one after another, supervising their work and making decisions. If AIC's picture is accurate for Kyoto Animation, the company that produced this episode, then it would make sense that very little of this artwork is in Ishihara's hand.

A simple conclusion would be that Ishihara, being responsible for all the duties of Episode Director, did not do much more than oversee Ikeda's work, and that his stamp here simply indicates his approval of the layouts. The "spectacles" stamp also suggests that, for this project, Ikeda did these sketches. (And an original layout that I got for an Ep. 128 cut looks identical in style and technique to the roughs with the "Shokō" stamp.)

However, it's very likely that some of the unstamped autograph layouts that I got with these sketch sets, the genzus or "rough roughs" that I sample in the thumbnails are Ishihara's work, part of his communications with the senior animator. A series of five original layouts that came with my sketches for Cut 96, for instance, show a different sketching technique from Ikeda's and often exhibit the distinctive "chicken-scratching" style that I've seen in art from this episode and from Ishihara's episode of Hyper Police.

So while I accept xyz's attribution of the roughs to Ikeda (along with the shuuseis), and suspect that this artist also did the originals of the layouts that bear the same "spectacles" stamp, I think it's likely that Ishihara did many of the unstamped layout and genzu drawings. In many series, the storyboard artist also is responsible for the layouts, and Ishihara did in fact receive credit for storyboarding Episode 163.

It remains an oddity that the gengas for this episode are, like those for the Hyper Police episode Ishihara directed, are so faintly drawn. I can only assume that this was a custom that he encouraged among the 50 or so Ishihara-tachi who worked under him or his associates.

In any case, the artwork at all stages is extraordinarily beautiful, regardless of the artist, and so it's intriguing to get a sense of not just an individual style, but an complete animation team's signature approach to a famous episode like this.