An Interlude in the Street 1
Source: TV
Layers: 3
Sketches: 3
Cel Number: A2, B1, C1
Standard size

No Background

Added 1/18/2008
Updated 9/29/2017

Cut 9-7. After Yamato leaves the three classmates sit together outside, a little disheartened. This is the layout, showing Chiaki, Miyako, and Maron against a rough sketch of the European-style cityscape, looking blankly at the distance.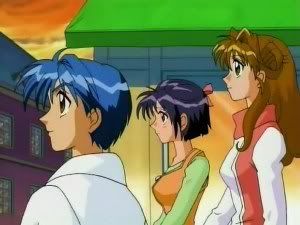 See the thumbs for the A2 layer, showing Miyako looking down a bit, and the B1/C1 layers with the other two.


Click to open in new window