Jeanne Saves a Pet Monkey: A1-A2
Source: TV
Layers: 1
Sketches: 2
Cel Number: A1, A2
Standard size

No Background

Added 1/9/2008
Updated 9/25/2017

Episode 24: Luxury cruise monkey panic, cut 29-18. The owner of a valuable gem Jeanne wants has hidden it in the collar of her pet monkey, and when Jeanne gives chase, the frightened animal falls off the side of an ocean liner. Jeanne performs a dramatic swing to catch the monkey in mid-air; then, in this cut, she lands safely before reaching down to comfort the pet and appropriate the jewel.

This sketch set, unfortunately water-damaged in places, contained the five key gengas plus a layout and two roughs, plus the shuuseis (not imaged). Featured above is the wonderful opening key, showing Jeanne swooping in from her daredevil swing, hair and robes flying.

The animator spared no cost to fill this image with action, continuing the design of Jeanne's hair and costume well outside the safety. Her expression, too, manages to combine concern with landing safely (on a thin metal pole that's part of the liner's rigging) with satisfaction (a la Errol Flynn) at completing the stunt with flying colors.

In the thumbnail I've added the A2 genga, showing Jeanne catching her balance on the pole, which likewise fills the sketch sheet from top to bottom.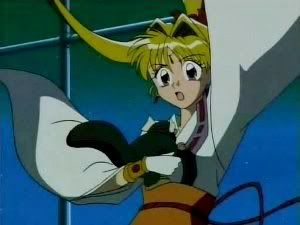 To keep the gallery tidy, I've hidden the A3 genga: go to "Private Area" and enter "seemorestuff" to view this and many other "extras" in this section.


Click to open in new window