Batanan Tries to Kiss Natsuki Goodnight
Source: TV
Layers: 2
Sketches: 2
Cel Number: A5, B3
Oversize, 12W x 9.5H

No Background

Added 1/1/2008
Updated 8/24/2013

Episode 18: An Era of Cohabitation. At this classic episode's climax, Batanan tries to kiss Natsuki good night. She's half-asleep and, with the koi chimes sounding outside the window, she's for the moment quite willing -- until the phone rings at the crucial moment, startling both partners, breaking the romantic mood, and bringing Natsuki's inner sense of morality once again to the fore. Sequence numbers: A5 (key, Natsuki and bed), B3 (Batanan).

This is a great action moment, made the more dramatic as the cel is oversized (300x245) to allow for a pan out. See how big Natsuki can make her eyes and her mouth when she realizes how close she's come to being (hanya--an!) compromised by the hunky werewolf. But, sadly, felines and canines "aren't supposed" to fall in love in this world. Alas, poor Batanan! At least Natsuki is aware enough of her own complicity in the near-miss encounter that, for once, she doesn't fry him with her magical powers. Still, don't miss his clenched teeth and little sweatdrop of frustration. A wonderful, perfectly matched set of cels from one of my favorite scenes in this series.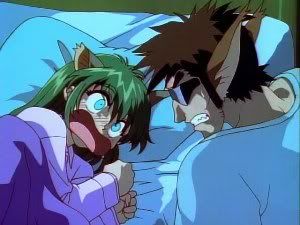 Click to open in new window