Mokona protecting Primera: A1 cel and background
Source: TV
Layers: 1
No sketches available
Cel Number: A1
Oversize, 15W x 12H

Key Cel
Original Matching Background

Added 1/1/2008
Updated 11/11/2017



Episode 48 (An Endless Battle!). As the story moves toward conclusion and the Knights begin to make headway against the opponents they face, each crisis shakes the world of Cephiro to its core, causing increasingly strong earthquakes. Here an especially damaging tremor brings down part of the roof of the castle's plaza.

Mokona, who has sheltered his new friend from previous showers of debris, grabs her and wonders how they're going to escape this danger. Sequence number: A1.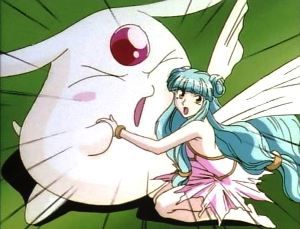 As the genga and screen cap indicate, this cel would have come with a top B1 layer emphasizing the drama (and the quick zoom in) with a series of lines extending outward in all directions. That layer, sadly, has been lost.

This generously oversized cel (15 x 12 in.) isn't served well by this scan: in person, the canvas-sized image shows both characters at just about actual size. The thumb adds a scan with the edges uncropped to give a better sense of the expansive size of this cel, which now lives in one of my extra-wide books.




Caution! Fussy Notes

The pretty green background fits the cel nicely; in fact, it's exactly the same size. Both cel and background have matching holes where they were once stapled together, and the watercolor shows a little damage from being in contact with the heavy paint used for Mokona.

But the painting isn't labeled or numbered in any way, so it's hard to tell if it is original and matching or a well chosen replacement. I'd always assumed the latter, but when I located the cel's context I could see that the bg used under the camera for this cut also had a lighter patch of green placed diagonally across the frame, behind Primera's wings on the right and showing beside Mokona's right foot on the left.

You can see this in the screen cap above: the difference in the hue and level of contrast are simply artifacts of scanning/screencapping/uploading to RS. Holding the actual background up to the frozen image on the screen shows the two to be much more similar than the scan/screen cap suggest on this page.

So while I can't demonstrate this with any penciled notation on the background or with any sketch that came along with the lot, I'm now inclined to claim it as OMB. The usual notations might have been trimmed off when the cel was attached (sigh!) to the background for sale by its original owner/dealer.


Click to open in new window